welcome to tony's pita
Best Greek Restaurant by British Kebab Awards 2021 and 2022
We serve traditional Greek cuisine in a family friendly atmosphere
Dine in / Take away / Delivery
View Menu
Order Online
Tony's Pita is a traditional Greek restaurant located in the vibrant part of London – the Swiss Cottage which has first opened its doors on December 2018 with a purpose to offer something new to the area. Tony's Pita is a family run venue with Mediterranean cuisine and atmosphere. Fresh and homemade food is cooked in a charcoal grill, and gyros, salads and other traditional Greek meals are served with passion and love every day.
Our second and very cherished branch is located at Palmers Green, and here we would like to invite you, our valued customers and friends, to visit us and treat yourselves with our delicious creations.
And last but not least, Tony's Pita at Ealing Broadway is now open! Follow us on Instagram and look out for announcement.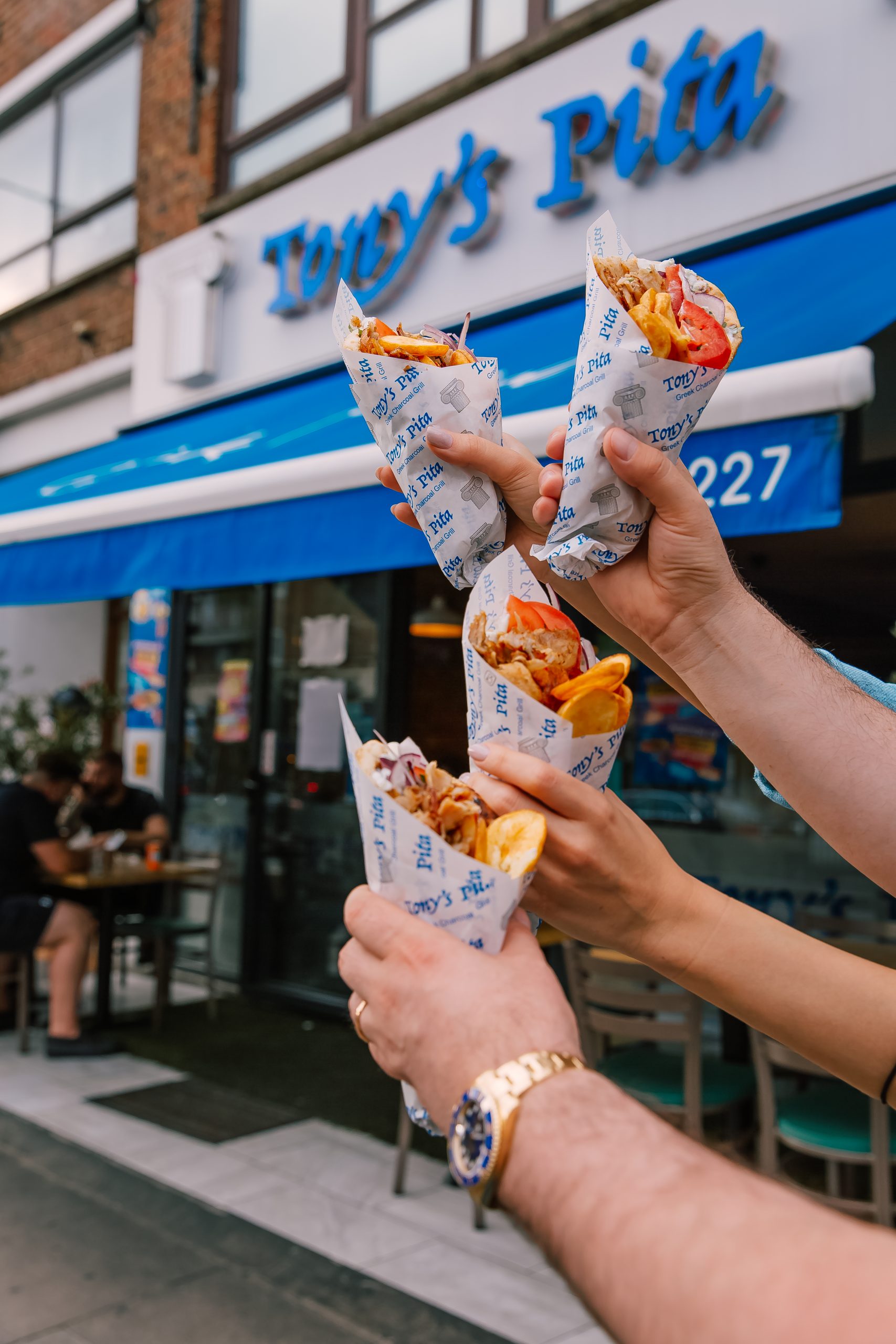 Busy schedule? Want to save time? Our app is the best way to save your time and money.
Order from any branch. Orders delivered quickly, fresh and hot!
Charcoal Grilled Lamb chops. Served with tomatoes, rice or chips. 
Chicken, Pork or mixed Gyros. Served with pita bread, house sauce or tzatziki, tomatoes, lettuce and chips
Juicy, aromatic homemade Greek style Bifteki. Served with beef, salad, chips or rice. We also have Special Biftaki – marinated beef patties stuffed with feta cheese.
Choose from pork, lamb or chicken grilled skewers. Served with pita bread, tzatziki, tomatoes, chips.
Greek sausage karditsas served with tomatoes, onion & mustard. Available in pita wrap as well. 
We offer plenty of options: pork, chicken, meat gyros wrap, vegan vegetables, haloumi, falafel and skewers options.
"We downloaded their App and had the food delivered at a scheduled time.
We tried the skewers , chicken wrap and bifteki meal. Happy to order a delivery again!"
– John
"The best lamb and kokoretsi ever. Cooked to perfection and delivered home on time and in good order. Simply outstanding! Highly recommended.The best Greek food in town."
– Babis P
Every time I crave souvlaki I order from here. It actually feels like I'm back in Greece. Amazing taste and quality, and ordering from their app is really easy and fast.
– Georgios Marios Stratakis
Πολύ καλό φαγητό & καλή εξυπηρέτηση. :)
– Nata Lia
MON – FRI
11:00am – 11:00pm

SAT – SUN
11:00am – 11:00pm
SWISS COTTAGE:
4 New College Parade, Finchley Road, London NW3 5EP
PALMERS GREEN:
378 Green Lanes, London N13 5PD
EALING BROADWAY:
29 Bond St, London, W5 5AS
Drop Us a Line
Don't be shy. Let us know if you have any questions!